Tunnel Of Love in Ukraine Most Romantic Place in Ukraine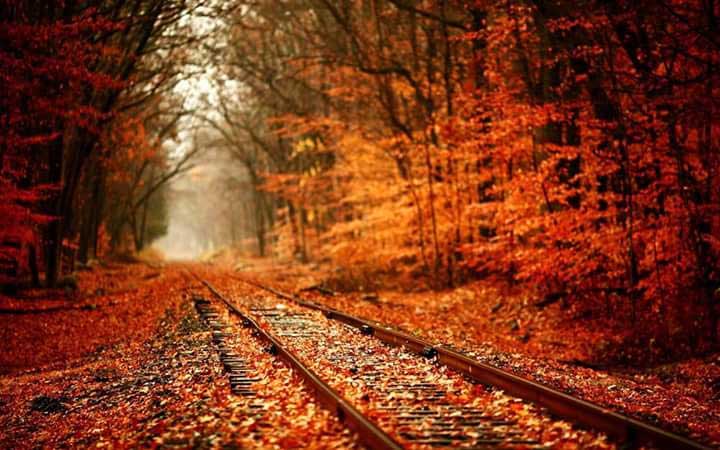 The TUNNEL OF LOVE is the most romantic place in west of Ukraine
If I call it a mesmerising marvel of nature causing dumb amazement or a deep outcry of surprise you may call me a sentiment adorer of nature.
You cannot be sceptical for what I say is reality itself. What really is it I am trying to tell you?  Well … this tunnel of love is nothing but an industrial railway neal Klevan in Ukraine.
It starts at Klevan station on Kovel-Rhine. The whole line is about 6.4 km in length and about 4.9 km is covered by forest on either side.
This railway splits into two and one line leads to Klevan while the other leads to a secret military base belonging to the cold war era.
The trees alongside the railway track is a result of a deliberate attempt made by man to cover the railway with planting of trees.
However, now this looks ever so mysterious a product of nature with its green arches. The tunnel of love is kept trimmed not by the movement of the military trams but by the industrial freight trains transporting plywood from the plywood factory in Orzhiv.
Plywood produced using Birch trees are transported using this railway track. The tunnel of love is about 100 m away from the factory. So this is the tunnel of love in Ukraine.
Its importance is clearly seen in the number of tourists who are both local and foreign, who haunt his sylvan phenomena to see its green arches that give it the appearance of a green tunnel.
It is popular among love birds who come here to walk through this tunnel hand in hand with such romantic outlook of mood as if to hide themselves from the rest of the world and feel inexpressible, genuine love in this sylvan location.
Also the newly weds find the tunnel of love a real treasure house of nature with its unique beauty and they are ever so willing to capitalize on this location to add beauty to their memorable wedding photos.
What with the presence of tourists, what with the haunting of couples in love and what with the newly weds having their photo shoots, the train operators find it really hard to operate.
However, the tunnel of love enjoys its popularity like mad and the number of tourists are on the increase now that information about this green phenomenon is available on the social media and the Internet.
There, indeed, is no official protection and it does not have a guardian either. The attempt to cut trees just to help trains move smoothly was met with objections and it was given up once and for all.
That is to say, without state patronizing or guardianship this place is protected with the love of public in Ukraine. This, for sure a heritage or a birthright of the public of Ukraine now.
Oh the traveller, you can feast your eyes on a live and vivid picture of a green tunnel, made up of trees. Yeah, green arches encapsulating the presence of a railway.
For the romantic nature lover nature at its supremacy of beauty is seen in the eye catching, enticing, flashingly spectacular natural beauty contrasted with the railway and trains representing the direct opposite of romantic beauty – that is industrialization.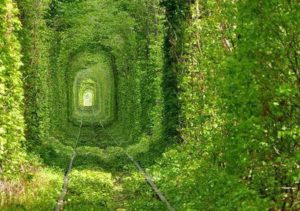 This beautiful location inspires poetic thoughts, on the aesthetically inclined individuals, it inspires tranquility of the mind. It inspires wonder at the marvellous creation of this sylvan phenomenon.
And for the people in Ukraine it inspires nothing but national pride for having inherited such a unique place of beauty to make Ukraine well known throughout  the globe.
Nestled in this way in Klevan as a creation – yeah, a creation of nature as a result of man's involvement in his industrial endeavour.
That is, in his creation of the railway line. The tunnel of love is an everlasting beauty in your memory once and for all if ever you happen to get the experience. You can relive this experience later at any moment with it spectacular natural beauty.
How to Get There – Tunnel Of Love
To get to this location, the tunnel of love, it is not advisable to use the bus with the problem of language barrier as the reason.
Klevan, being a rural town in Ukraine is located nearby Rivne which is one of the biggest transportation hubs in Ukraine.
You could possibly use either the train or the bus. Trains could be a better mode of transport than the bus. There is no flexibility in your travel arrangement with trains, though.
Travel in one fast train between Kiev and Rivne. There are trains that take 7 hours which means a great waste of your time. Bus rides are more flexible, faster and are better catered to your requirements though there is the possibility of the language barrier if you do not know the language.
Buying tickets for busses beforehand is advisable for they throng with locals usually. Taking possession of a seat cannot be guaranteed, though.
You can also get a mini bus from Rivne. They start as early as 5 am. There, usually is a big crowd there. Look for a bus with the sign Klevan. It takes 45 minutes.
You go through the most rural landscape of Ukraine. It costs you 18 UAH. As soon as you get to Klevan, be on the lookout on the right side of the road for a white arrow pointing to the direction to the Tunnel Of Love. If you are in doubt you might as well ask the driver of the halt to get off.
You could possibly take a taxi which would cost about $25 in total and only takes three hours. My recommendation is that you make arrangements once you get accommodation to find a fairly priced taxi. Though you can go by train or by bus I strongly recommend travelling by car or taxi.
Accommodation – Tunnel Of Love
Try Rivne Hostel. This is clean and comfortable with bunk beds with individual lights and outlets. However, the toilets and the sink are in separate rooms. So are the showers.
That is not a problem at all, though. You could also try hotels. However check out best Rivne hotel prices beforehand.
Your visit to the Tunnel Of Love is an exploration to a natural treasure trove. So make much of  your visit and get the maximum of its beauty.
Plan your travel arrangements and accommodation and choose the best options. A visit made to this sylvan tunnel, is endowed with romance, love, beauty and amazement.
Yeah, happiness is what matters mate. Let me conclude with once assurance, that is what you gain when you visit the Tunnel Of Love the money you spend is not indeed a loss.
Tunnel Of Love on Google Map Here